Orange Data Mining est un logiciel d'analyse de données basé sur une programmation visuelle. Son processus d'installation peut s'avérer complexe, notamment sur Windows 10, en raison de dépendances à des bibliothèques python dont les versions peuvent interférer avec celles d'autres logiciels. Voici quelques conseils d'installation réduisant au maximum les manipulations.
Pour les utilisateurs de Windows
Un moyen consiste à installer une version portable de l'environnement de programmation Python. Cette installation n'interfère pas avec le système et ne devrait donc pas être perturbée par l'installation d'autres logiciels. À partir de là, vous avez accès au gestionnaire de paquets pip.
Téléchargez WinPython 3.6.2.0Qt5-64bit (il s'agit d'une version "portable" de Python, c'est-à-dire, tout le nécessaire est contenu dans un seul dossier) :
Installez WinPython, en notant où vous l'avez installé (je recommande la racine de votre disque dur principal, c'est-à-dire C:\)
Allez dans le dossier installé: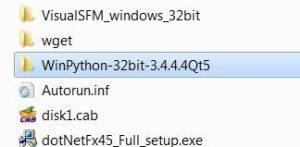 Vous allez voir plusieurs icônes d'applications, dont par exemple Spyder, une interface d'analyse de données similaire à RStudio, mais dans le langage Python au lieu du langage R.
Double-cliquez sur WinPython Command Prompte.exe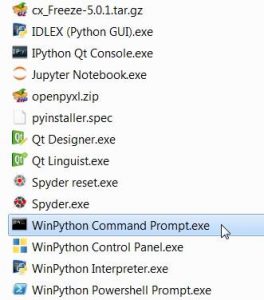 Une fenêtre de terminal (ligne de commande) s'ouvre. Tapez
et pressez la touche Enter ⏎ . Ainsi:

Attendez que l'installation se fasse. Vous allez finir par voir quelque chose comme ceci :

Démarrez Orange3 en écrivant
puis en pressant Enter ⏎ . Ainsi:

Attendez quelques secondes et l'interface de Orange apparaîtra: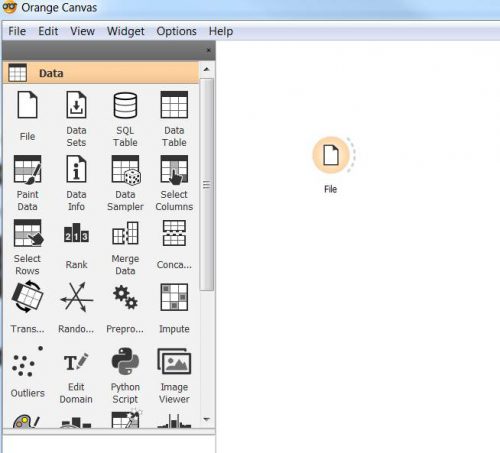 Pour les utilisateurs de Mac OS
L'installation du logiciel peut aussi poser problème sur Mac OS. Mac OS, pas plus que Windows, ne possède de gestionnaire de paquets natif et l'installation de Python autre que celle (toujours trop ancienne) disponible sur le système, est une aventure en soi pour le néophyte.
Une solution consiste à installer le gestionnaire de paquets communautaire Homebrew dont les instructions d'installation se trouvent ici.
Une fois que Homebrew est installé sur votre système…
Enable science packages and install dependencies:
brew

tap

homebrew

/

science
Install and activate virtual environment:
virtualenv

-

p

python3

orange3env

source

orange3env

/

bin

/

activate
Install PyQt4:
Download sip and PyQt4 source. Unpack and install each with (and make sure you run these commands while your virtual environment is activated!):
Clone orange repository and open it:
git

clone

https

:

//github.com/biolab/orange3
Install python modules:
pip

install

-

r

requirements

.

txt

pip

install

-

r

requirements

-

gui

.

txt
Build Orange:
Run Orange Canvas
Cite as:
André Ourednik
(2017) &laquo
Installer Orange Data Mining
&raquo in
Maps and Spaces
from https://ourednik.info/maps/2017/10/30/installer-orange-data-mining/ [Last-seen September 21st 2018].