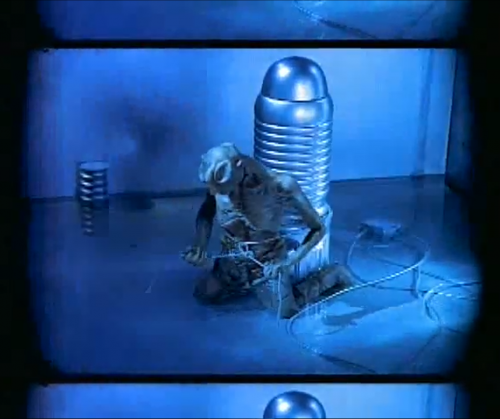 12/21/2012. Some say the end is near.  But there's still time to watch the best music videos about Doomsday.
Tool – Ænema
"Some say we'll see Armageddon soon – I certainly hope we will" sings Maynard James Kennan. Here, the end of the world means "fret for your figure and fret for your latte and fret for your hairpiece and fret for your lawsuit and fret for your prozac and fret for your pilot and fret for your contract and fret for your car." Released in 1996 on the Ænima studio album, the song invokes a new beginning, a smoothing of a space striated by a labyrinth of crap. What better song in a time of self-inflicted World crisis. Rejoice, therefore, "my friend … I'll see you down in Arizona Bay".
The fan-video above shows the song text. Adam Jones, Tool's bass player made a video for the song using stop-motion animation, available on the Salival CD/DVD box.
Wagner and Lars von Trier – Isolde's Tod
"Heller schallend, mich umwallend, sind es Wellen, sanfter Lüfte? Sind es Wogen, wonniger Düfte? Wie sie schwellen, mich umrauschen, soll ich atmen, soll ich lauschen? Soll ich schlürfen, untertauchen? Süss in Düften,  mich verhauchen? In dem wogenden Schwall, in dem tönenden Schall, in des Weltatems, wehendem All, – ertrinken, versinken, – unbewusst, – höchste Lust!"
Claire (Charlotte Gainsbourg) would have preferred to listen to Beethoven's 9th, standing upright, with a glass of red wine in her hand: the perfect bourgeois doomsday gesture. "This is a shitty idea" says Justine (Kirsten Dunst). There is no mask of dignity, no face to keep facing the end of life in the Universe – only melancholy and infinite sadness.  We should take refuge in our childhood dreams, our shelter of hope that makes us, that will have made us human. The most important question to ask ourselves is what we want to have been. Shall we have loved, shall we have hoped like Isolde, or shall we have aped tragic postures? A question that might also give some perspective to many World-preservation ideologies, whatever, green or identitarian, they might be…
Omega massif – Exodus
Speaking of perspective, there is no such time scale as the cosmic one. Compared to it, even geology appears as a science of the event. Exodus takes you right there. Turn up the volume!
REM – It's the End of the World as We Know It (And I Feel Fine)
There was a time when MTV played music, and a time where a low-budget video could make you happy.  The song was released in 1987 on the Document album. It's been made into a video by the team of the American painter and director James Herbert, who's made close to twenty REM videos. It depicts a teenager rifling through an abandoned, collapsing rural home. The floor is covered with old toys. He displays some to the camera. He stands up, holding the photograph of somebody in outdated clothes – we think of his father. The end of childhood is the first kind of a world's ends. The end of adolescence is another. Some of us were teenagers ourselves when the video was released. But hey, we feel fine. We even have kids on our own.
For the anecdote, the skateboarder's name is Noah Ray, a boy from Athens, who now fronts the punk band "Music Hates You", that earned Best Punk/Hardcore Band and Best Live Band honors in the 2006 Flagpole Magazine Music Awards.
More Doomsday songs
For more Doomsday songs, see It's the End of the World as We Know It: 25 Songs for Judgment Day posted by Pat Pemberton.